About Us
We are Gill & Kirstie Venton (Mother & Daughter) and we live in North Wales on the coastline. We have owned & shown shelties since 1984 and Kirstie has been showing the Australian Shepherds since 2002.
Gill started showing the dogs but when Squeak was a puppy everyone commented on how well he showed for Kirstie in the Junior Handling classes so he was handed over at 13 months old in 1990 when Kirstie was 10 years old and at his first show where he was officially handled by Kirstie he went Best of Breed.
Gill finally got a dog of her own to show when she purchased Indi in 1999. Kirstie occasionally handled him. Gill handled Indi to his Reserve CC in November 2001.
Kirstie has been showing and handling the dogs since she was 10 years old and has won numerous junior handling competitions at Open shows. She also competed in the handling classes at Championship shows a few times with a number of placings from 1sts to Fifths. She now has to be content with judging the Junior Handling classes and competing in the occasional adult handling class. Kirstie is a Championship and open show judge of Junior Handling.
Some of Kirstie's handling wins include:-
Junior Handling classes at the Shetland Sheepdog Club of North Wales 10 times over 6 years under many well known sheltie breeders and judges.
Best Junior Handler at Mid Western Shetland Sheepdog Club
Best Junior Handler at Yorkshire Shetland Sheepdog Club
She was only beaten once in Breed Club handling classes over approximately 6 years.
3rd Junior Handling association 12 -16 age group at Welsh Kennel Club CH Show in 1996 out of an entry of 41. Judge Mr Felix Cosme
1st KCJO 13 - 18 handling class at Working Breeds of Wales CH Show in 1997. Judge Mr Robin Searle.
Shortlisted to the last 16 in the JHA Semi-Finals at Richmond Ch Show in 1997 from over 50 entries under Mr Pinkerton.
AND
1ST KCJO Senior Handling Competition at Crufts 2001 out of an entry of 30. Judge Mr Geoff Corish.
This picture was taken after winning the class at Crufts.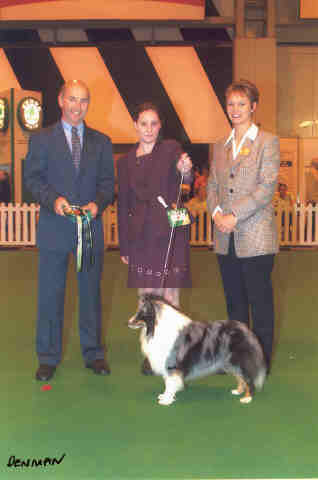 Photo by Les Denman
Kirstie again competed in the Senior handling class at Crufts 2002 and out of an entry of 40 she was shortlisted down to the last 19. This class had many of the top ex - juniors in the class.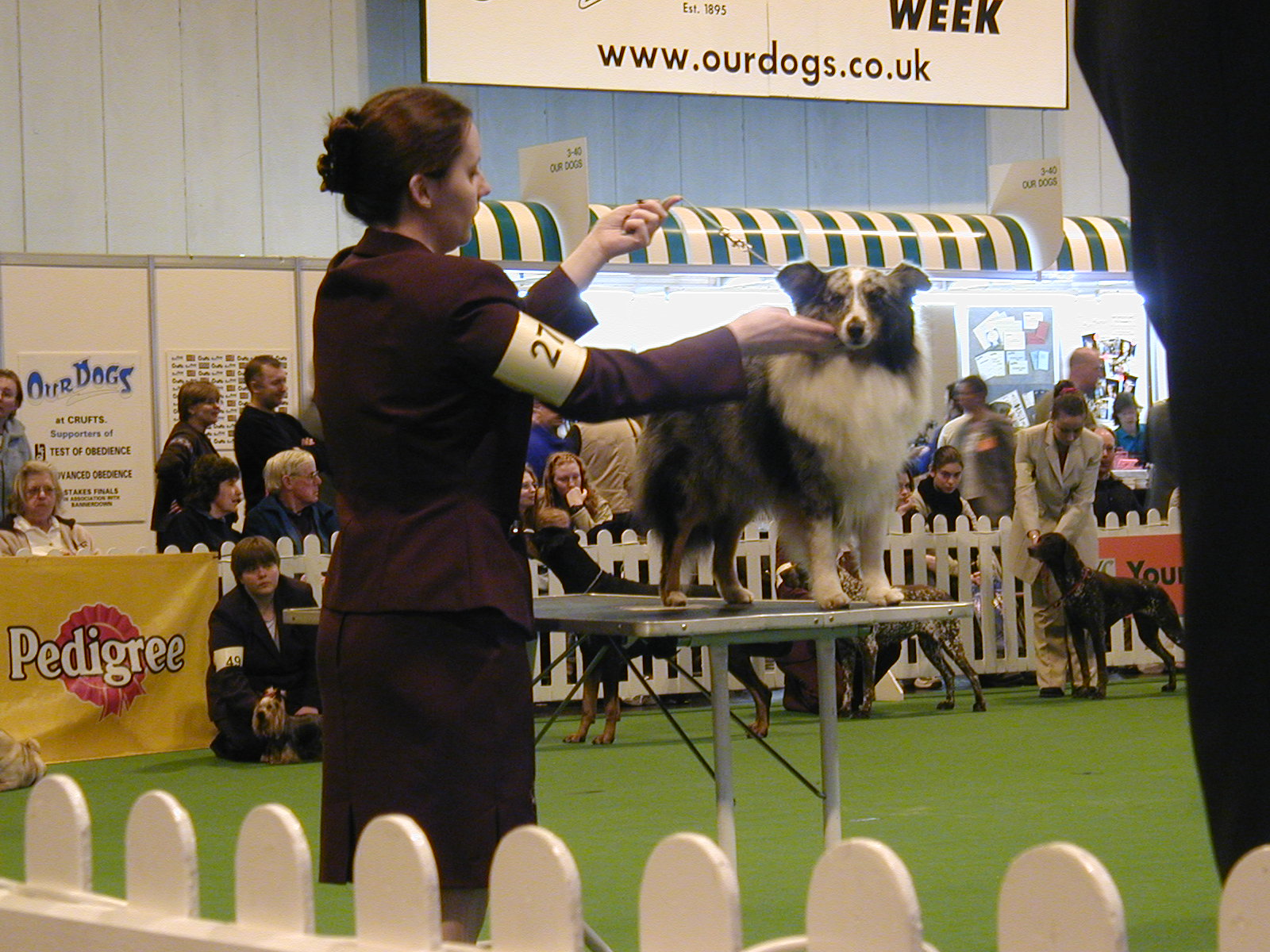 Kirstie in the Handling class with Merlyn at Crufts 2002
In 2004 Kirstie ended her YKC career by gaining 5th at Crufts in the 17-24 yrs handling class. She handled the blue sheltie Kevitas Sweet Crystal.
At Ruthin CS open show Kirstie has competed in the Adult Handling classes and was winner in 2004, 2005 (handling Merlyn)and 2007(handling Shenzi) and 2008 handling Bea (She didn't compete in 2006 & 2009). Kirstie won with Shenzi in 2010 and again won with Mika in 2011. In 2012 Kirstie carried on her unbeaten run and won the Adult handling class with Shenzi, and to keep up the unbeaten record Kirstie again won the class in 2013 showing Mika.
At Anglesey Open show on 8/9/07 Kirstie Won the Senior handling up to 50 years class and then successfully challenged for Best Senior Handler. She handled Shenkiri Rolling Thunder (Bumble the delinquent puppy Aussie)
Once again at Anglesey in May 2008 Kirstie won the senior handling class. This time with Shenzi.
At Rhyl open show in november 2008 Kirstie wins the adult handling class and gill gets 2nd in Senior handling. Both showed Disney.
Kirstie won the adult handling at Anglesey open show in May 2009 with Shenzi continuing her unbeaten run.
In January 2010 Kirstie handled Shenzi to win Best Adult Handler at Llandudno Canine society, and she repeated this win in October 2010 handling Bea. And Kirstie won again in January handling Mika
Kirstie Also competed in the Adult handling class at NASA ch show and she won with Shenzi. Thanks to judge Penny Fludder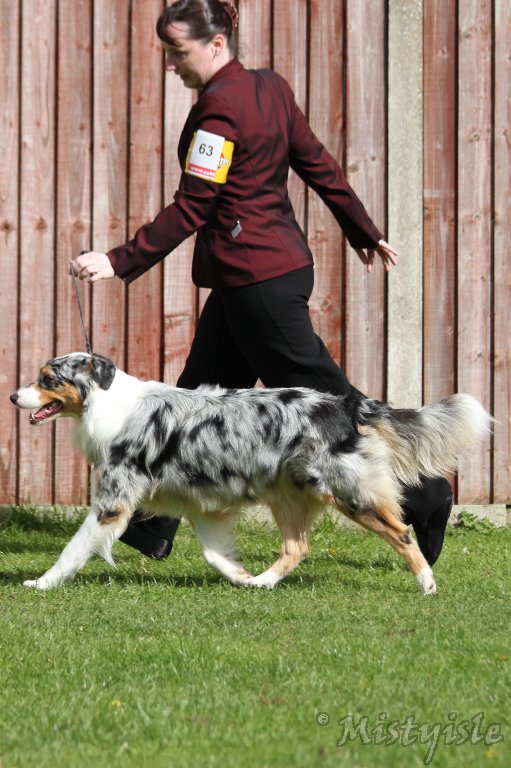 Kirstie handling Mika
Kirstie has also handled many dogs for other owners with numerous wins. These include open show Best in Show, Reserve Best in Show, Best puppy in Show, Reserve Best Puppy in Show and Best veterans. Some of the many breeds Kirstie has handled include Akita's, Shiba inu's, Bearded Collies, Tibetan Spaniels, Dobermann and Bernese Mountain Dogs.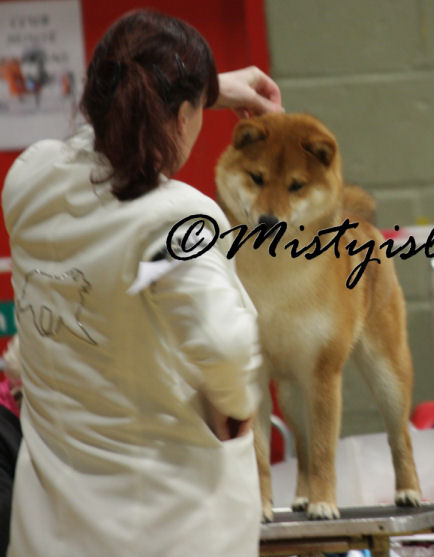 Kirstie showing Stewie the Shiba Inu puppy March 2013